OpenText Content Server Power Automate Connector by One Fox
Streamline content, metadata and tasks between Content Server and 300+ applications
Content Server Power Automate Connector by One Fox offers organisations a friendly solution to automate content workflows to and from your OpenText ECM-platform. By connecting Content Server with Microsoft Power Automate and its 300+ connectors to market leading business applications. Allowing you to streamline content processes across a wide spread application landscape, limit information silos and overcome an ever increasing information sprawl.
The Power Automate Connector provides a critical connection between business processes, Enterprise Content Management en end-user needs. Giving them a no-code way of automating their tasks and content workflows. So they can exchange documents, metadata and events between OpenText Content Server and everyday business applications. Without the need for technical or extensive workflow expertise.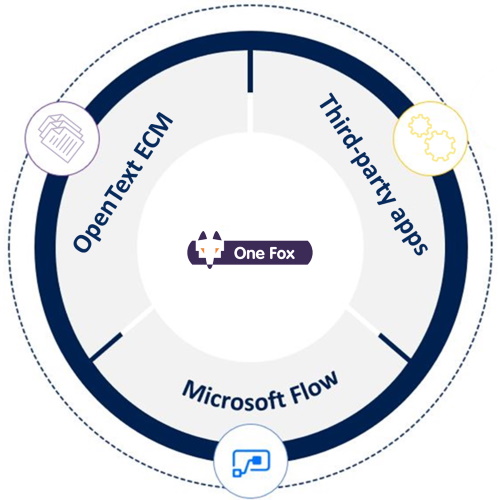 Limit information silos, increase compliance

Empower OpenText Content Server as the primary repository for all things content related. Capturing all important business content in one place for necessary compliance and controlled distribution

Streamline content across divided applications

Power Automate Connector allows you to automate content processes across a widespread application landschap. Allowing you to automate easy tasks, decrease workloads while increasing productivity and digital tranformation.

End-to-end integration with 300+ connectors

Connect OpenText Content Server to nearly any business application, app or content repository. Giving you out-of-the-box integration with applications from Microsoft, SAP, Salesforce, Adobe, Box and many more.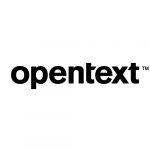 "

The combination of OpenText and Microsoft helps organizations reduce costs, increase productivity, accelerate innovation and improve flexibility. "
Streamline ECM
Integrate Content Server to over 300 business applications through the Power Automate Connector. In order to store and archive all important business content into OpenText Content Server for necessary compliance and controlled distribution. Closing the gap between widespread application landscape and information silos.
Automating content distribution will improve productivity, increaseg your grip on unstructured processes and free up your employees from repetitive tasks. Leading up to a more cost efficient way of working.
Workflow automation
Automate content workflows while eliminating manual and repetitive tasks with out-of-the-box workflows. Content Server Power Automate Connector streamlines your content to and from your OpenText Content Server platform. Powering your employees' productivity while streamlining content-centric business processes. Lessening the pressure of your workloads and saving time in the process.
Use any of the pre-created workflow-templates to empower your productivity and increase compliance:
Approvals & Digital Signing
Send documents from Content Server out for approval or a digital signature with DocuSign, Adobe Sign, etc. While securing all approved and signed content back in Content Server.
Onboarding workflows
Automate onboarding processes by informing and capture information from new employees, customers and partners. Kick-starting and streamlining HRM and sales onboarding processes.
Collaboration Archiving
Capture content from collaboration platforms and tools like Microsoft Office 365, SharePoint, Teams, Planner, etc. For centralized storage in Content Server and increased compliance.
Social Media & Website Archiving
Automatically archive your Twitter, Facebook, Instagram feeds and, through RSS-feeds, your website & blog posts. For centralized archiving, including metadata, and retrievability.
Disaster recovery
Content that is crucial to your business operations can't just be kept in one place. Automatically storing this content externally allows you to secure your organisations most importent content and procedures.
Cloud Storage Archiving
Capture and synchronise Cloud storages like Dropbox, OneDrive, Google Drive and more. In order to secure important (collaboration) content into OpenText Content Server.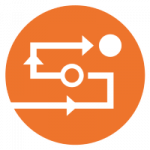 "Power Automate Connector by One Fox enables employees to realize approval processes for documents in OpenText Content Server"
OpenText Extended ECM met Power Automate integratie
The Content Server Power Automate Connector was developed by One Fox in close collaboration with OpenText. To offer you an accessible workflow solution on top of the OpenText Content Suite platform, Extended ECM for Microsoft Dynamics 365 & Extended ECM for Microsoft Office 365 & Teams.
Want to know more about Power Automate Connectors?
Please contact us through the form below. We will be more than happy to answer your questions.