OpenText eDOCS
Secure documents & (case) files. Archive documents of value. In line with (inter)national standards, archiving and privacy laws.
OpenText eDOCS has proven itself to be a solution that helps organizations store, manage and archive (process)information, documents, and (case)files. eDOCS supports digital processes and information flows so that the entire company can centrally access and store information securely. Resulting in better information services and business support.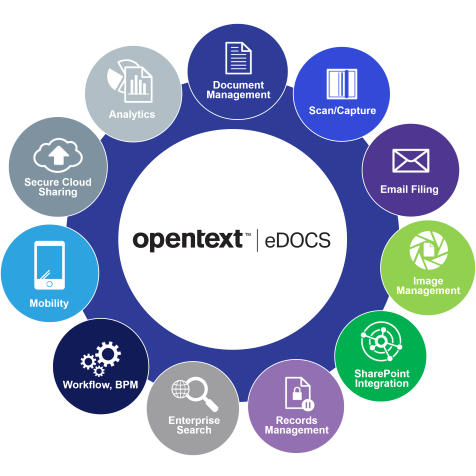 30 + million documents stored centrally, no problem!

Several organizations have tested the limits of eDOCS. Without affecting performance! eDOCS continues to perform, even with massive amounts of documents. While still requiring only minimum maintenance effort and cost.

Help support the standardization of business processes, and digital work

We can help store your (process)information centrally and in a standardized manner. For complete (case)files, ready to archive and/or transfer to an e-Depot. And help you find and access the required business information easily, even after 20 years.

Beter benutten van uw eDOCS omgeving, wij vertellen u hoe...

15 + years of experience with eDOCS ensures that we know each document library, institution, and API. More importantly, we know how to help your organization use eDOCS even better!
More information about OpenText eDOCS
Download the OpenText eDOCS flyer or visit the eDOCS Marketplace website for your eDOCS add-on solution
Do you have a question about eDOCS?
We are more than happy to drop by and show you what flexible process management can do for you.